Itokazu Abuchiragama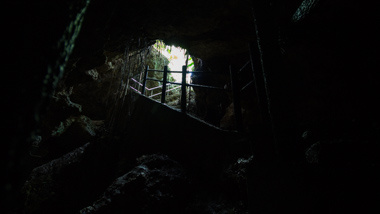 Itokazu Abuchiragama is a natural cave (gama) located in the south of the main island of Okinawa at Nanjo City Tamagusuku Azuitokazu. During the Battle of Okinawa, the village of Itokazu was assigned as a shelter trench. However, the Japanese army used it as its quarters and warehouse. As the battlefield moved south, it became the quarters of the Haebaru military hospital. Medical officers, nurses, and Himeyuri schoolgirls were assigned to it. The cave's 270m long interior was filled with more than 600 injured soldiers. was filled with more than 600 injured soldiers. After the order of evacuation was declared for southern Okinawa on May 25th, 1945, the hospital was evacuated and the trench became a place where Itokazu residents and injured soldiers of the Japanese army lived. Afterwards, the trench was attacked by the US army and the survivors who surrendered left the "gama".
Outline of the Battle of Okinawa
Okinawa Prefecture Archives offer
The Battle of Okinawa refers to the battle which occurred between the end of March and July 1945 at the final stage of the Pacific War. The Pacific War broke out in 1941 and the Japanese army, which was weakened at the Pacific islands, thought the US army would land on Okinawa. They planned an operation to focus on the US army in Okinawa. As a matter of fact, this was a sacrificial operation in order to gain time to prepare for battle on the main islands. For this reason, Okinawa became the only ground battlefield on Japanese land.
The US army landed in the central part of the main island of Okinawa on the 1st of April 1945 and moved forward to Shuri Castle where the Japanese army command was located. Seeing the overwhelming military strength of the US army and the impending fall of Shuri, the Japanese army retreated to the south. We call the line between the landing point of the US army and the Shuri command, the "Central front" and the line further south to Shuri, the "Southern front". Hundreds of thousands civilians were caught up in the Southern front, and had a tragic ending.
On June 23rd, with the suicide of General Ushijima, the organization of the Japanese army fell apart. Several battles continued throughout Okinawa until the US army declared the end of the operation on July 2nd. During the 90 days of the Battle of Okinawa, 66,000 Japanese soldiers, 28,000 Okinawa native soldiers, 12,000 American soldiers, and 94,000 civilians died. The population of Okinawa had been around 500,000 people before the battle. Therefore, a fourth of the Okinawan people perished in this war.